Child Custody Modification Lawyer
Disputes often arise relating to divorce decrees. Consequently, divorce and custody modifications occur frequently. Usually, something changes in the support-paying parent's life, such as losing a job and not being able to pay the ordered payment. One side may be having problems with addiction or legal problems, or be suspected of abuse. Sometimes the needs of a child changes as he or she grows and develops.
When these situations occur, it is necessary to file for a modification to the original court order. Modifications must not be undertaken without court approval. Informal agreements between ex-spouses often break down. Making the change publicly is the best way to protect both parties from misunderstandings and reneging.
Divorce Modification Attorney
Modifications are a lawsuit that you file for changing a divorce decree in Texas that are major changes. They are distinct from clarifications, which are merely motions asking for an incorrect fact to be fixed.
At the Law Office of V. Wayne Ward, I file motions for every kind of court order modification:
It is wise to file a petition for modification as soon as conditions prompt, because few judges will order back payment before the date of the petition filing.
Sometimes modifications lead to noncompliance. When this occurs, I can assist you in requesting enforcement by the court.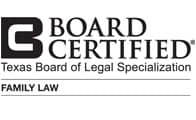 Why hire a board-certified lawyer?
Certification by the Texas Board of Legal Specialization is your assurance that a lawyer knows the law and is competent in his or practice. Wayne Ward is one of a small number of practitioners who have earned this designation. It allows you to look to Wayne Ward with confidence in his professionalism, his ethics, and his understanding of Texas law.
Call A Modifications Lawyer – Address Life Changes
Are you concerned that your divorce decree no longer reflects everyday reality? Look to a certified expert in family law for solutions: me, family law attorney Wayne Ward. I will speak with you firsthand about your support or custody modification problem and how to best approach it.
To schedule a consultation, call my law firm at 817-789-4436. Alternatively, write to me using this easy email form.
Se habla español. Spanish language service is available.